Blast From The Past!
A new "Falcon Flyer" monthly column inspired by Class of '73 MRHS alumni, Liz Bradley. "Blast From The Past" is a new "Falcon Flyer" monthly column inspired by Class of '73 MRHS alumni, Liz Bradley.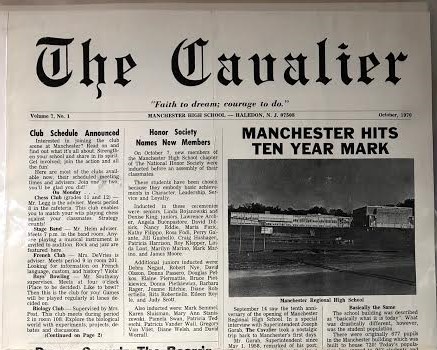 Michaela Alfano and Angeliz Rivera, Editor-in-Chief and Columnist
November 5, 2019
Ms. Bradley generously donated 10 original issues of The Falcon Flyer from the 1960's and 70's. We were so fascinated by the similarities and differences between MRHS Then and Now, that we decided to make the comparison a monthly column.
Each month the Falcon Flyer Staff will choose one article from a past issue of the MRHS Newspaper, re-post it, and examine the same topic as it relates to MRHS today. The first article we have chosen to re-post follows below along with our present day perspective. 
Manchester Hits Ten Year Mark (Original Article circa 1970)
September 14th saw the tenth anniversary of the opening of Manchester Regional High School. In a special interview with Superintendent Joseph Gorab, The Cavalier took a nostalgic trip back to Manchester's first days. Mr. Gorab, Superintendent since May 1, 1958, remarked of his post, "It is a unique privilege to plan a high school for your own home town and that of your neighbors. It was a once-in-a-lifetime chance, and it happened to me."
Manchester Hits Fifty Nine Year Mark (Present Day Perspective circa last week)
September 5th saw the 59th anniversary of the opening of Manchester Regional High School. In a special interview with Principal John Coviello, The Falcon Flyer took a ride in a time machine to the future. Mr. Coviello, Principal since 2017, remarked of his post, "My goals are to provide students with a comprehensive experience that, in turn, will prepare them for college or the workplace and to be the best high school in Passaic County."
Then…
The school building was described as "basically what it is today." What was drastically different, however, was the student population. There were originally 677 pupils in the Manchester building which was built to house 720! Mr. Gorab said, "Today, ten years after opening, there are 943 Falcons!"
Now…
The school building today is very different from the 1970's. Smartboards, flat screens, computer labs, 1:1 Chromebooks, and the Innovation Center have turned the original MRHS building into a 21st Century learning institution. Interestingly, the student population has not changed drastically. MRHS houses 843 scholars!
Then…
Ten years ago Mr. Gorab interviewed 350 teachers before selecting the 36 who comprised the first faculty. Mr. Gorab said, "Now, after ten years, there are 65 teachers."
Now…
Today there are approximately 60 teachers at Manchester. Which is great considering this unbelievable fact: the annual teacher shortage will reach about 110,000 by the 2018-2019 school year.
Then…
Commenting on students, Mr. Gorab feels that, "There have been some changes in appearance and dress, but the basic hopes, desires, and goals of young people are still the same." The Superintendent credits students with being, "Idealistic, eager to serve the needs of their fellow man, and capable of great growth."
Now…
The goal now is not just to prepare students for college, but to "prepare them for the route they want to take in life." Manchester now is offering many more opportunities that will help guide them in the career they want to pursue. MRHS has options such as military seminars at lunch, work study programs, and internships that are in the works for the future.
Then…
Principal Paul Corazza, commenting on Manchester's first ten years, noted that the community had provided "Sound and basic education throughout all these years." He also pointed out that this required, "Carrying the burden of greater expenses, because this is a regional school", and that "The citizens deserve our thanks for all they have done to help Manchester grow." As to the future, Mr. Corazza looks to expansion of curriculum as well as of school facilities.
Now…
Mr. Coviello has hope that, "To the community at large, Manchester represents the endless possibilities and opportunities that this country has to offer." He ended our interview by reminding me that, "High school is the key to endless opportunities." 
Thank you so much for taking time out of your busy schedule! 
The Falcon Flyer Staff