What's Your Natural High?
Red Ribbon Week began in 1985 following the death of DEA (Drug Enforcement Administration) agent Enrique Camarena. He was captured while leaving his office building on February 7, 1985, and then found dead one month later. He had been tortured by the men who captured him. To honor his memory, Enrique's friends and family wore red, satin ribbons on their clothing. 
Camarena's work within the DEA to stop illegal drugs was so extensive, it did not go unnoticed by the city of Guadalajara and its neighborhoods. Soon after his death, groups began using Camarena as a symbol of the idea that only one person needs to speak up to make a difference. In 1988, the first National Red Ribbon celebration was officially declared and sponsored by the National Family Partnership. 
Schools all across the country celebrate Red Ribbon Week by having assemblies and keeping people aware of the dangers of drugs.  Researchers have collected data saying 87% of teens have tried their first cigarette by the age of 18 and 95% by the age of 21. Teenagers are declining their health by abusing drugs. They can stunt your growth and cause your body to change negatively. Tobacco companies have attracted customers by glamorizing their products. They are promoted by a celebrity or the products are given kid friendly flavors. Whatever promotion they use, it is causing many young adults to fall for their tactics.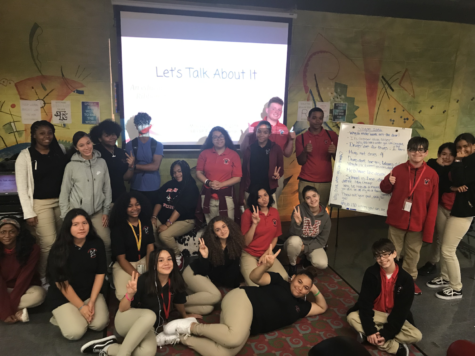 This year, the School Based Youth Service Program (SBYSP) Falcons' Lounge with the help of our SAC counselor, Melissa Mitchell and the MRHS Interact Club, is bringing the Red Ribbon Campaign to MRHS. From October 23rd to October 31st, MRHS will be celebrating the national campaign in hopes to raise awareness. The goal for the MRHS Red Ribbon Week is to get students thinking about ways to feel good without having to smoke, drink, or take any drugs. Freshman Garrett Rolle created the slogan for the week, "Why be HIGH as a MOUNTAIN when you can be FLY like a FALCON?" which was voted on by students who attended a SBYSP Falcons' Lounge after school training.
The SBYSP Falcons' Lounge wants to get students to feel good about themselves. They want students to come and check out the fun activities offered through the lounge and they want to hear from you, MRHS, about what you like to do instead of abusing drugs.