Opinión: "Doctores exigen vacunar a inmigrantes contra la influenza y evitar epidemia"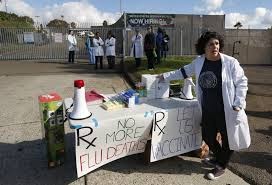 El grupo de doctores llegó hasta la frontera para alzar su voz y alertar sobre la importancia de vacunar a los inmigrantes en centros de detención.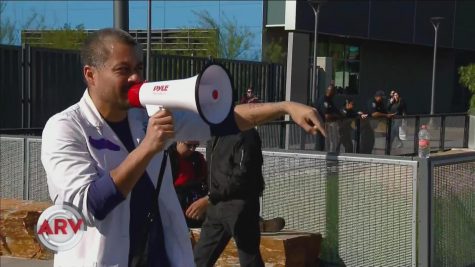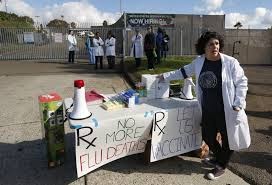 En San Ysidro, California, un grupo de doctores está protestando sobre la importancia de vacunar a los inmigrantes en centros de detención. vienticuatro inmigrantes se murieron bajo el cuidado de ICE durante la administración del Presidente Trump. El más reciente fue Carlos Hernández Vásquez, se murió de la influenza por falta de atención médica. Solo tenía 16 años y cuando su compañero de celda lo encontró a las 6:05 de la mañana lo reportó al Agente de la patrulla fronteriza y "seguido en breve por un asistente médico que intentó una compresión torácica única" más muertes así van a seguir si nadie le dan atención médica. Aunque esta gente rompe la ley siguen siendo humanos. Yo siente que ellos se merecen ser tratados como humanos. América siempre habla de que son el mejor país pero este comportamiento es desagradable. 
Me da asco a ver que el país donde estoy siendo criada trata los inmigrantes tan horrible. Mi mamá es una inmigrante y vino de la República Dominicana y le doy gracias a Dios que ella vino cuando lo tiempo era diferente.  Si fue ahora y para que me separe de los brazos de mi mamá aunque yo tenga 16 años sería demasiado para mi. Y para no saber si ella está bien o los hermanos mio es muy difícil. Para no esta al lado ellos en un tiempo tan fuerte realmente prefiero morir. Entonces ellos también separa los niños de los padres y ni le tan la attention médica que necesitan.
La importancia de estado vacunada es muy necesario por los niños y los adultos. Según la Clínica Mayo, "los virus de la gripe evolucionan tan rápido que la vacuna del año pasado puede no protegerlo de los virus de este año." El gripe es tan grave que puede causar muerte y más si tiene asma, cáncer, diabetes, sida, u obesidad. "Las vacunas contra la gripe se lanzan cada año para mantenerse al día con la rápida adaptación de los virus de la gripe." "Cuando te vacunas, tu sistema inmunitario produce anticuerpos para protegerse de los virus incluidos en la vacuna. Pero los niveles de anticuerpos pueden disminuir con el tiempo…" Los inmigrantes en estos detenciones no están recibiendo el cuidado apropiado. Necesitamos cambiar este comportamiento porque es muy inaceptable. 
Interpretation: In a city in California a group of doctors are protesting about the importance of vaccinating all immigrants currently in detention centers.  By not doing so, children as young as the age of sixteen are dying. For me, this is unacceptable. These immigrants are human beings and deserve to be treated as such.  We need to change this to ensure that all people, including immigrants, receive the proper medical treatment.