Ruth Bader Ginsburg: Equal Rights Heroine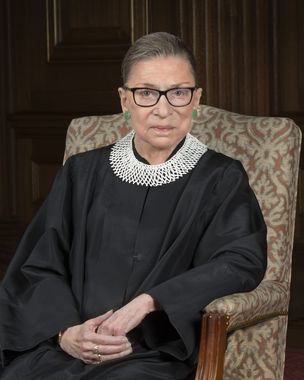 Ruth Bader Ginsburg is best known all around the world, and especially in the US, for successfully fighting against gender discrimination and unified the liberal block of court.
Ruth Bader Ginsburg was part of the Supreme Court of the United States being an associate justice & she was nominated by Bill Clinton. She was born on March 15, 1933 in New York and died on September 18, 2020.  Ruth grew up in a low income, working class neighborhood in Brooklyn. As a child, her mom always taught her the value of independence and a good education. Her mom was a very big influence on her life. As she was growing up, she attended James Madison High School in Brooklyn and she worked very hard and did beyond good in all of her studies. Unfortunately, her mother was struggling with cancer throughout this time and died before RBG's graduation. Shortly after Ruth had earned her bachelor's degree in government from Cornell University in 1954 where she finished first in her class and this is all where her life began.
As RBG was earning her degree that exact year, she met someone, a law student and his name was Martin D. Ginsburg. They got married and had two children. Ginsburg attended Harvard and while she was at Harvard she would go through a very male dominated, sexist and hostile environment that only had eight other women in her class out of 500 people. The women were scolded because they were taking the places of men but RBG carried on and became the first female member of the prestigious Harvard Law Review.
Some of Ruth's accomplishments included her becoming the second female justice on the U.S Supreme Court,  she also served as the director of the Women's Rights Project of the American Civil Liberties Union in the 1970s, and was appointed to the U.S. Court of Appeals for the District of Columbia in 1980. She was appointed by Bill Clinton and there she continued to argue for gender equality. One demonstration or example of this would be United States v. Virginia. She was an all around brilliant woman and her voice made a change to this world in a positive way. Although she passed away due to complications from metastatic pancreas cancer, all of her accomplishments will never be forgotten.