Audiobook: Mis Vacaciones Inolvidables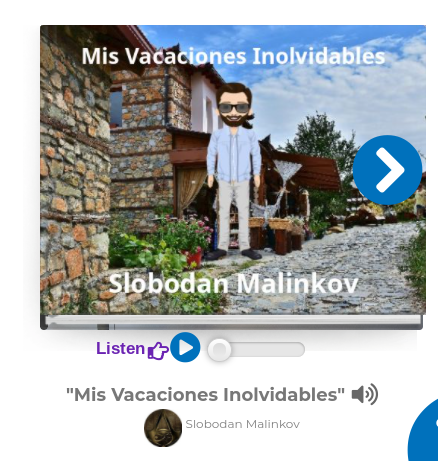 Click the link below to listen to Slobodan read his story:
Mis Vacaciones Inolvidables Por Slobodan Malinkov
Yo visité Macedonia en mi viaje.  Mi mamá y mi hermana fueron conmigo. Fui el Junio 19 del 2017 (dos mil diez y siete ) a Macedonia. El vuelo a Macedonia fue de 10 horas. El boleto costó 1400 dólares. El boleto fue muy caro.
Me quedé en casa de mi abuela. Hice un viaje a Grecia en Thessaloniki con carro. En Macedonia fui a visitar Kavadarci. Mi familia y yo fuimos a Strumica con carro. También mi familia fuimos a Ohrid con mi tíos y mis primos. 
Luego fuimos a Skopje con mi familia. Luego fui al viñedo de mi familia a recoger uvas en Kavadarci. Fuimos a las playas y el centro comercial llamado Kosmos con mi familia a Grecia . Mi familia y yo fuimos a Strumica a Goce Delchev (un monumento). 
En Macedonia yo visité Kavadarci, Strumica, Skopje, Prilep  y Ohrid. En Grecia visité Thessaloniki.  Yo vi a toda mi familia. En Prilep (ciudad en Macedonia ) durante Oktoberfest vi a una persona famosa llamado Haris Dzinovic .
Yo compré un barco en Grecia para mi papá. Usé dinero porque es más efectivo. La música folklórica es la música tradicional en Macedonia. A veces bailé. Gasté cien dólares por mi viaje a Grecia y quinientos dólares por mi viaje a Macedonia. 
¡Las vacaciones fueron divertidas y muy ajetreadas!