Saint Marty of Thanksgiving Dinner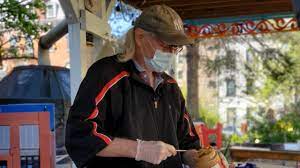 The holidays bring out the best in people, a 42 year old dad from the Bronx has been giving away meals to the homeless for Thanksgiving. Thanksgiving to him is to embody kindness and be a "beacon of hope". Marty Rogers has lived in the Bronx all of his 66 years. His community has dubbed him "Mayor Marty" and "Saint Marty".
Marty operates an annual Thanksgiving dinner at a local church. The dinner has been a yearly event for more than 40 years. It's held at the Immaculate Conception Church. Rogers explained how he opened it up to be just for seniors but then later also did it for people who were experiencing homelessness. Although COVID-19 affected the tradition, Rogers kept going. He and his family worked together with his local restaurants. They did this for a "takeout" effect, so either way homeless people get to have Thanksgiving.