Beyoncé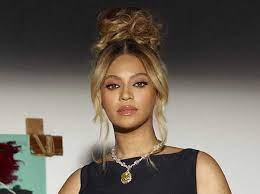 Beyoncé is a 40 year old actress, songwriter and a singer who has done many songs. Her journey started when she first auditioned for `Destiny's Child" in Tx, Destiny's child is a group of girl singers who sing solo and go on performances all at age 9. Her performances were amazing , every judge was highly impressed by her stage performance. Throughout the years , songs which she sang as a solo started to become popular over the years such as "say my name, brown eyes, soldier, emotion, etc.". . The more Beyoncé started growing up she wanted to achieve more through her music.
Beyoncé left Destiny's Child on February 16, 2015 where she was 33 by that time. She wanted to leave because she wanted to achieve much more . At the age 30, Beyoncé and her husband Jay-Z had their child and is currently 9 years old today. During her performances, her fans kept asking her questions and Beyoncé told them " "I wanted to sell a million records, and I sold a million records. I wanted to go platinum; and I went platinum. I've been working nonstop since I was 15. I don't even know how to chill out." She told them "if you want to accomplish something it's going to take its time. All you got to do is be patient because everyone has a purpose in this world." 
However, since Beyoncé is 40 years old , she gave birth to twins in 2017. She accomplished so much when she was just 9 years old and still kept wanting to get bigger which makes her a good role model for black history month. She wants her kids to be different from the rest. For example, in an interview she told the reporter that she wanted her son to be strong and healthy but at the same time she wants him to show when he's sad and let down because that's what good women look for, she said. Beyoncé is also an actress, you might know her from The Lion king who played as "Nala".She was also in movies such as obsessed, Dreamgirls and Austin powers in Goldmember etc.. She has known to us teenagers, mothers and kids that you can accomplish anything at any age . She supports women, she encourages women not to settle for a man that is less than, she promotes positive body images, she also has a good relationship with her daughter Blue ivy. 
In conclusion, Beyoncé shows a lot of love towards what she does which makes her a good role model. Although her journey started small she kept wanting it to be big and she accomplished it , even though she is a mother of 3 kids, she still is going big and strong and going through the 100 most popular songs, she has also won many Grammy awards. She shows people to be who they are and to do what they can do to make their dreams come true.