My Role Model: Antonia Novello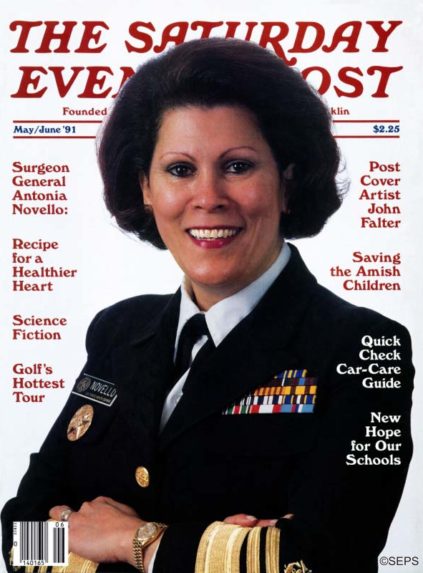 Antonia Novello was born in 1944 in Puerto Rico born in Fajardo, Puerto Rico. She suffered from congenital megacolon until she got surgery to correct the issue at 18 and 20. Novello's medical condition inspired her to become a doctor and ensure that no one else would have to fall through the cracks and suffer. She graduated from high school at 15 and then began to study at the University of Puerto Rico School of Medicine.   Antonia would then start at the University of MI Department of Pediatrics as an intern and then several other positions in universities and private practice as a fellow, attending and such. She would eventually sign up with the U.S Public Health Service and take up several positions in the National Institutes of Health.
President George H.W bush would then go on to nominate her for Surgeon general and she would be confirmed by the Senate in 1990. Novello would focus on the health of women, children. She led multiple public health campaigns to get companies to stop unethical advertising like Joe Camel. Congress would eventually listen and regulate this in the Tobacco Advertising Prohibition Act of 1992. These actions alone inspired me as I used to have a very defeatist and pessimistic view of the world, seeing that other people can overcome challenges that are even harder than mine definitely gave me a sort of wake up call. It changed my attitude towards life and definitely got me to improve my self-discipline. I started going to the gym everyday which is a huge leap when it comes to my self-discipline. Antonia's ability to hold so many positions and do so much in a lifetime definitely has shown me that it's more than possible to find my place in the world and accomplish my dreams.


Antonia continued her service til 2014 where she resigned at the age of seventy or six years after the average person. Novello gave a piece of advice that can be used for almost any situation which is "I survived many times in my life by learning to laugh at myself, but I also became very self-assured and capable of saying that if I could do that, I can do anything." It's a very basic piece of advice but it still carries massive power. Novello now resides in the Washington area with her husband.