Welcome to the Falcons' Lounge
Since 2006 the Falcons' Lounge at MRHS has served as a place for fun and counseling. If a student needs someone to talk to, the Falcons' Lounge is a place they can go and get the help they need. Students can also go during lunch and after school to play games and relax from school work. Over time, certain games have been swapped out for new ones, e.g. air hockey is now pool, but one thing that remains constant is the top notch counseling.
Even though the colorfully painted lounge is inside MRHS, the Falcons' Lounge is actually not an official part of MRHS. It is a partnership between MRHS and Care Plus NJ, Inc., a non-profit organization that provides comprehensive, recovery-focused integrated primary care, mental health care, and substance abuse rehabilitation services in 49 sites throughout Northern New Jersey.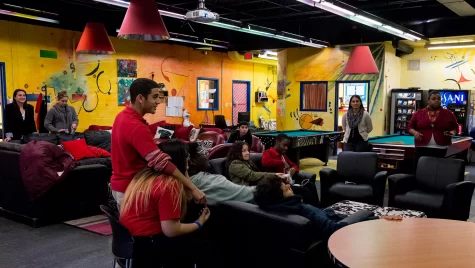 School work can sometimes feel overwhelming and become too much or sometimes a kid just needs a place to hang out with their friends after school. The Falcons' Lounge is here to provide that break that you want. On the other hand, if you need to catch up on work you can use the environment as a nice place to get your homework done.
If a student seeks counseling, it always becomes the priority because taking care of students' mental health is put ahead of everything else. If a student wants to seek out help they can get help at nearly every moment of the day. Kids are able to talk to counselors one on one and are able to talk or vent about any issues they are facing.
The Falcons' Lounge is a place with many purposes, its main one is to ensure students have a fun and safe place to go during and after school. If someone needs support or just wants to play games the Falcons' Lounge is the place they should go.