How to make delicious quarantine treats for Halloween!
These two delicious recipes are so easy to make and have great reviews. They are great to pass time, and have fun under these unfortunate circumstances.  Try to make quarantine Halloween a bit more fun! It's creative, cute, and good to eat.
Silly Spider Cupcake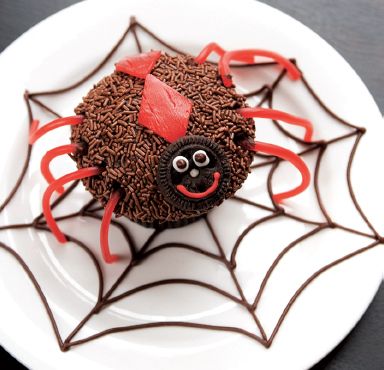 Ingredients:
One 16-oz can of chocolate frosting

12 baked and cooled cupcakes 

( Any flavor of your choice)

1 c. chocolate sprinkles

12 mini oreos

1 package 2-foot-long red licorice laces

3 rolls red fruit leather, each cut into eight 1-inch diamonds

1 tube each red and white decorating frosting 
Directions: 
Spread 2 1/2 Tbsp chocolate frosting over the top of each cupcake. Roll tops in chocolate sprinkles to cover completely.

With the remaining chocolate frosting pipe a dollop of frosting on one side of each cupcake; attach the chocolate cookie.

Use a toothpick to make eight holes along the edge for the legs. Cut red licorice into 3-inch-long pieces and insert one piece into each hole. 

Attach fruit leather diamonds on top of cupcakes. Pipe a red mouth and white eyes and nose with decorating frosting. Pipe the eyes with remaining frosting.

Spoon  chocolate frosting into a resealable bag. Pipe web on a small plate. (Optional) Place spider cupcakes in the center of the plate.
Peanut Butter Acorns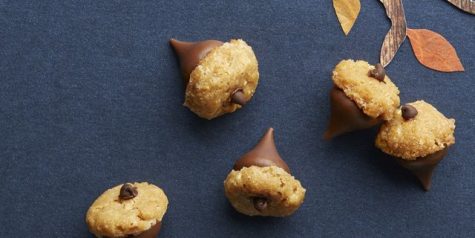 Ingredients: 
3/4 c. smooth natural peanut butter.

3/4 c. sugar.

1 tsp. vanilla.

1 large egg.

1 tbsp. flour.

½ c. mini chocolate chips.

48 chocolate kisses.
Directions:
Heat oven to 350 degrees F. Beat first 5 ingredients in a bowl using an electric mixer until well combined.

Spoon dough by rounded 1/4 teaspoonfuls onto an unlined baking sheet. Flatten each piece into a dome shape.

Bake about 10 minutes or until golden, rotating the sheet halfway through baking. Let cool for 5 minutes on baking sheets.

Microwave 1/4 cup mini chips in a small bowl on high for 30 seconds, stirring at 10-second intervals. Dip the bottom of each chocolate kiss in melted chocolate, and place on the flat side of each cookie. Use the same method to affix a mini chip "stem" to the top of each cookie, completing the acorn.