The New and Improved Weight Room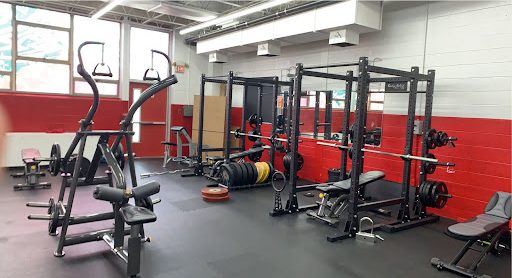 The MRHS weight room was renovated this alongside the innovation center around the end of 2019, but due to Covid, it wasn't officially opened until the ribbon cutting ceremony in November of 2021.  The upgraded room is currently overseen by Mr. Sposato and Mr. Ala, and it is located in room S-3 which is next to the Falcon's Lounge. The weight room is available for all students from  3 to 5 PM after school and gym classes are seen there at least once a week.
The Football, Wrestling, and Track teams also take advantage of the room to build strength and endurance when needed. It currently has 5 squat/bench racks, 3 stationary bicycles, and 3 elliptical machines. It hosts 2 sets of dumbbells going up to 80 pounds as well as regular and bumper plates for deadlifting, benching, and such.
The room continues to get minor improvements as time goes on. Just not too long ago a new set of bumper plates and medicine balls were added. Here's what one Manchester student, Adam Bagdough, thinks of the improved weight room, "It is a great place to uplift yourself mentally and physically." Another student, Fahim Abdullah said, "It is a great place for people to get bigger and stronger."